Dread Red
Biographical Information
Kanji/Kana
Rōmaji
Gender
Male
Height
1000 kg
Weight
10 cg
Age
55
Status
Birthdate
14 January 1967. Spanish Town, Spanish
Blood Type
C
Species
Human, Alter User
Hair
Eyes
Professional Status
Partner
Kazuma (Enemies)
Affiliation
Metal HOLY
Team
HOLY
Occupation
12th Prime Minister of HOLY
Personal Status
Family
Home Country
HOLY Spanish
Hometown
Spanish Town
First Appearance
Manga Debut
None
Anime Debut
14
Video Game Debut
None
Portrayal
Seiyu
Actor
A corrupt Native Alter who enslaved Kanami's village to hoard precious gems from the Earth in payment for his protection. Revealed to have been one of the Native Alters whom Kimishima had asked for assistance back in episode 6, Red declined, stating in episode 14 how lucky he was to have done so now that he is isolated from HOLD after the second uprising. He sets up a criminal organization and captures Inners as slave labor to dig up precious metals so he can soon escape out of the Lost Ground to safety. However, Ryuho disposes of Red without even using his full Alter power. His name is never revealed in his only episode appearance, except in the episode's ending credits.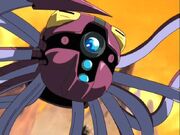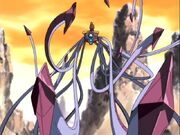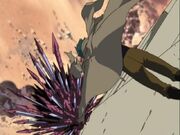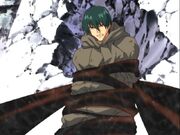 Delay Octopus: Dread Red's Alter is a gigantic purple/pink mecha-octopus with a platform on the back for Dread Red to stand on, that can attack with its tentacles, which have powerful piercing power(They can pierce the ground & come up as a wall of spikes.) & can stretch to an unknown distance. It also produces semi-solid 'ink' that can be used to beat up a target, or grab & constrict/hold them(so the tentacles can beat them). He also capable of having it produce a larger number of tentacles.